Tauferer Ahrntal, South Tyrol
Tourist Boards
Lutago - via Aurina / Ahrner Straße, 22
Telephone: (+39) 0474671136
Ahrntal Valley, on the sunny side of the Zillertal Valley Alps, is best described as a place unknown to many, yet it has become a second home for many others. This valley, nestled in a majestic scenery of 80 mountains with heights over 3.000 metres, forms the...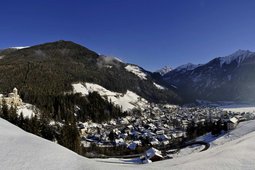 Campo Tures - Via Josef Jungmann / Jungmannstraße 8
Telephone: (+39) 0474678076
The lush clovers and healthy spruces make the Schwarzenstein glacier gleam. It towers above Taufers Castle and attracts daring people.