hotels and apartments
sport and leisure
localities
information

Your search
Residence Valle di Selva dei Molini / Mühlwaldertal
Valle di Selva dei Molini / Mühlwaldertal: Accommodations with kitchenette or kitchen and possibility of additional hotel services
Lappago / Lappach (Valle di Selva dei Molini / Mühlwaldertal)
The residence Sonneck is situated in the picturesque village of Lappago and offers seven comfortable apartments with kitchenette, bathroom and a terrace for sunbathing, with a unique view of the surrounding mountains.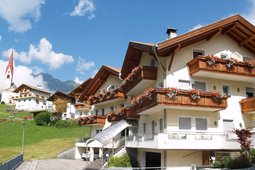 Selva dei Molini / Mühlwald
Sonnwies Aparthotel is located in Selva dei Molini, at 1.220m, and disposes of spacious and comfortable apartments. It is a quiet place, away from the big city noise. In winter you can ski on the beautiful powdery snow on perfectly groomed slopes.