hotels and apartments
sport and leisure
localities
information
10
KOASA-HOF Superior Chalet / Gäste-Hof / Maso-Vacanze

Markus & Cinzia
San Giovanni / St. Johann (Valle Aurina / Ahrntal) - Mühlegg 133


Telephone: (+39) 37114615... (+39) 3711461534 / (+39) 3406913515
www.koasa.it - info@koasa.it
Farmhouse B&B + Apartments - Offered treatments: SC BB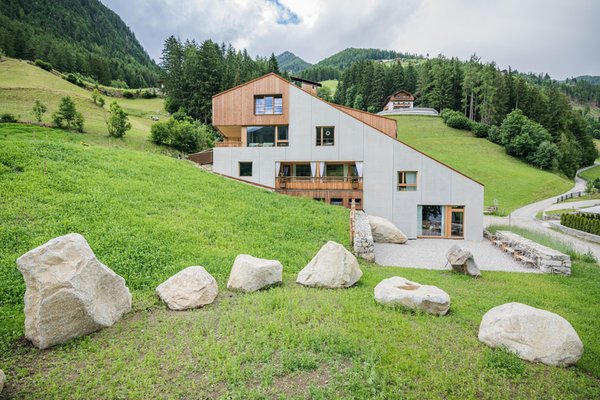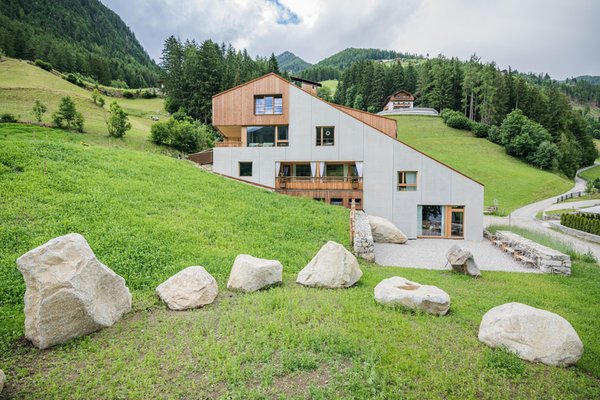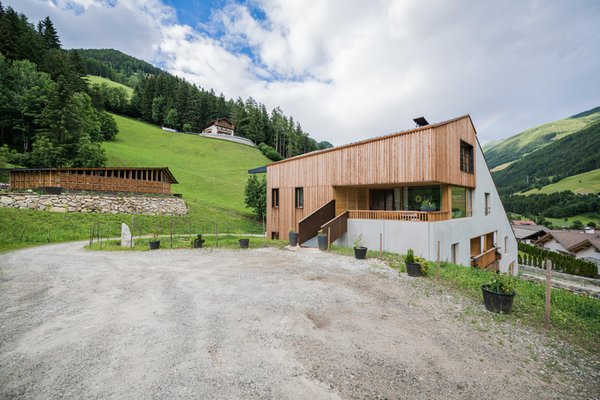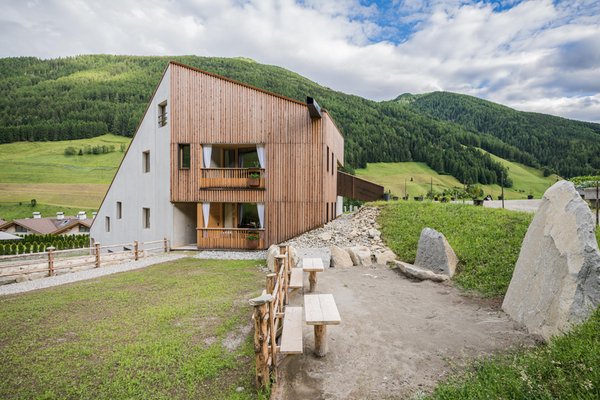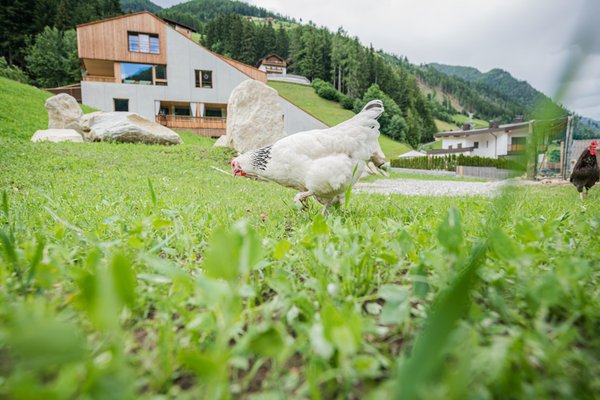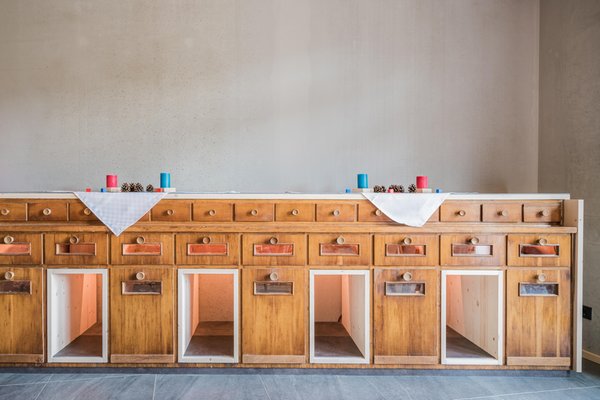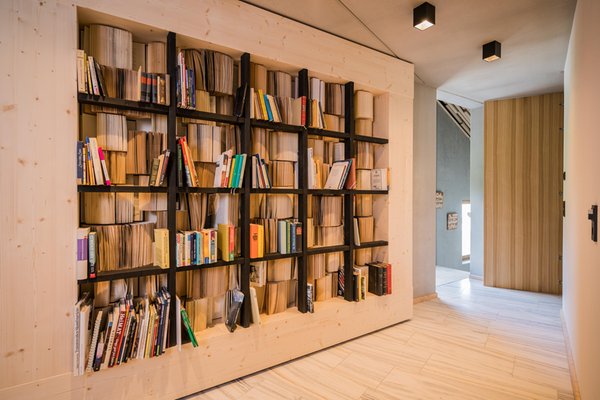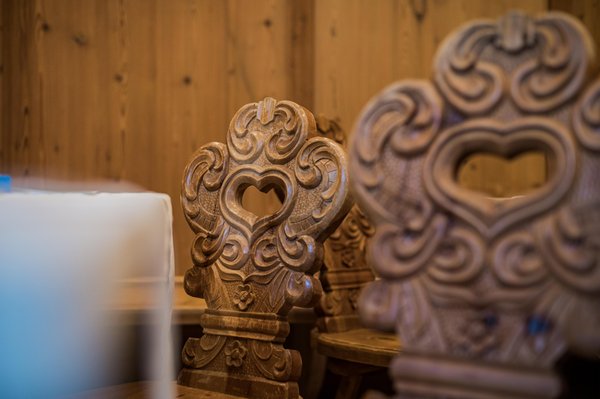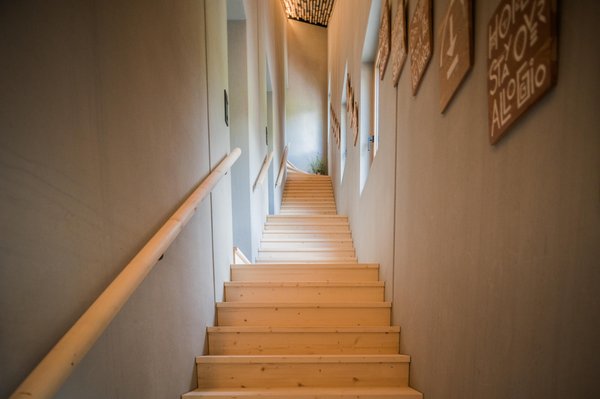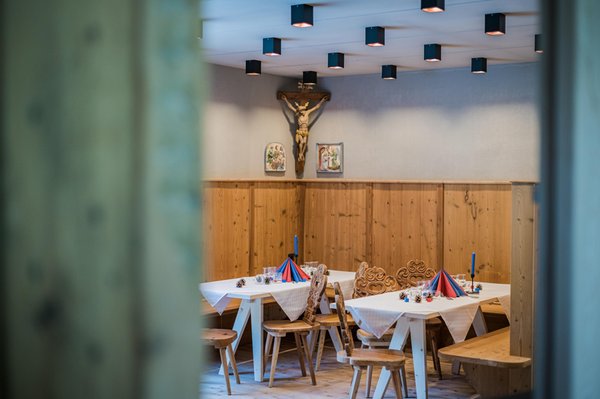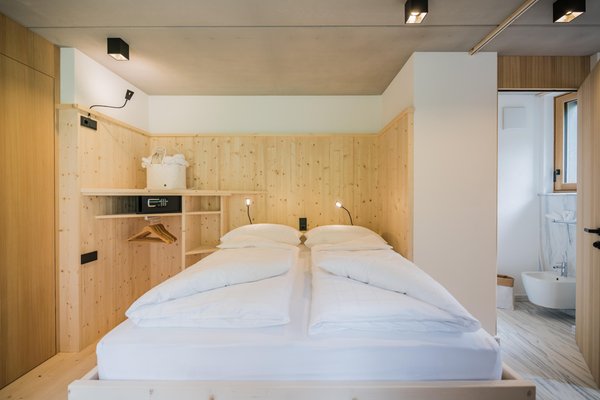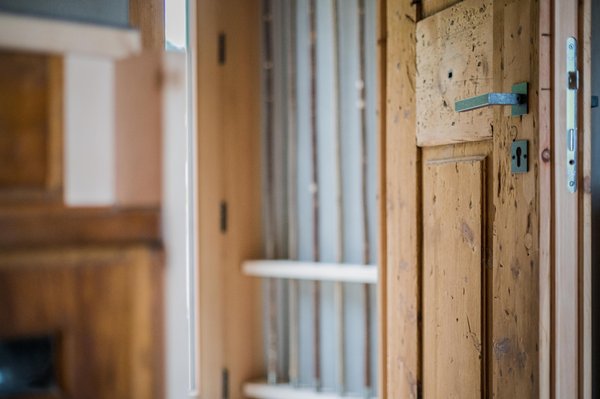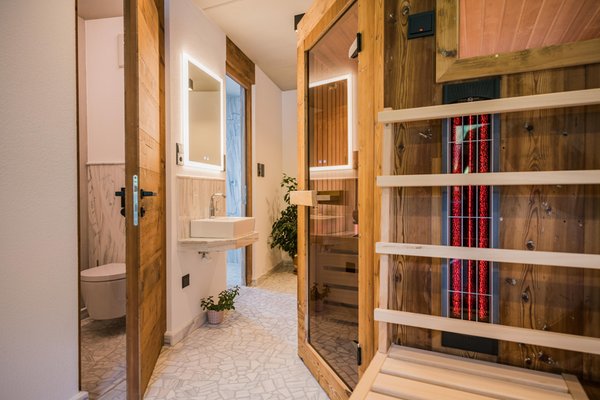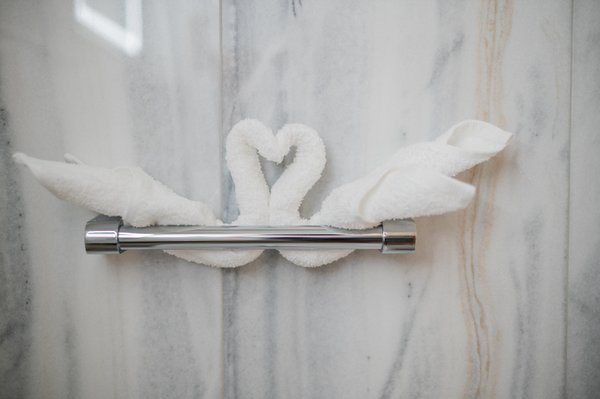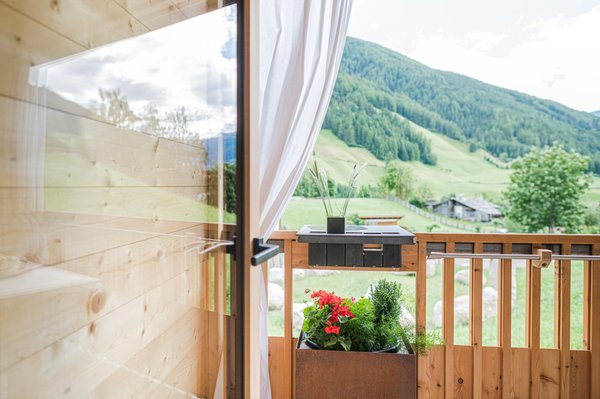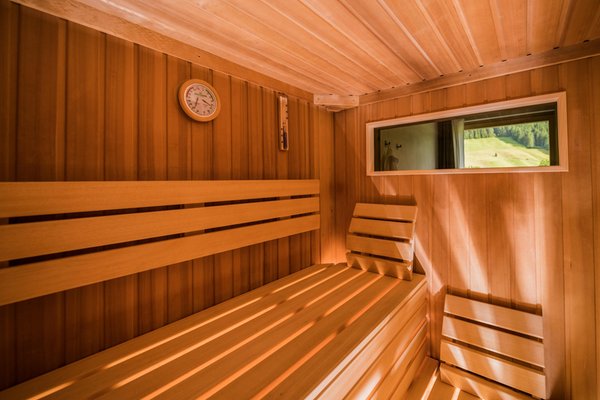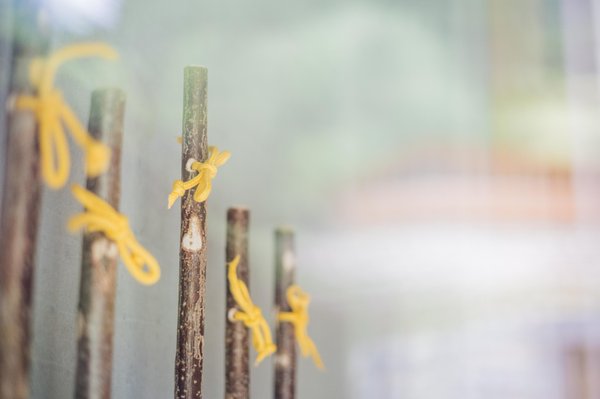 Farm inn Koasa-Hof the Aurina valley/Ahrntal
It's a guest house, a hostel, it has rooms to rent. It's a place for sharing, for meeting, for exchanging. You may call it a spot for special days, at a peculiar farm in South Tyrol. It's Koasa-Hof. Come on in, the hosts will show you your happy place.
It took them a while until they have found their living and housing perfection. It's no wonder though, as every cobble, each wooden piece, even concrete is far away from incidental composition. There's hardly a coincidence to find here. The result of Koasa is solid exploration, creative partners and the experience of many years of hosting guests.
You will find tradition in the details and a vision in this concept. This farm house is born from the hosts' passion, and turns into their living and working spot.
This is their philosophy
The guesthouse Koasa is a place for people who enjoy composing their own active travels. A pretty different location from others, this is what local people keep saying; it is distinctive, so they mean. Do you think you would like to spend your vacation at Koasa?
The rooms
Koasa can host two to six people in one room. Each room has access to the shared kitchen and living area.
Rent out the complex. Offer for group travel.
This is your site if you are a bunch of people who would like to spend their vacation together, as you may rent the whole building. In this case the guest wing will be all yours, still teh hosts are close enough in case you need any assistance. This is what they propose: Rent out all five rooms, kitchen included. Hence, you will prepare your group breakfast on your owns (hosts can assist the organization). For lunch you may try out lunch on one of the about 80 cabins of the Valley Aurina. You might cook dinner back at the Koasa Farm Inn. You will love the professional kitchen equipment.
1st floor, ground floor, 2nd floor, 3rd floor
farm inn 240m2

| | |
| --- | --- |
| General information | at 1050m a.s.l., agriturism, nearby model aircraft airfield, 250m from the bus stop |
| Facilities | open parking space, barbecue, garden at guests' disposal |
| In room/apt. | safe, TV with satellite reception, hairdryer, dish washer, washing machine, drying rack, allergy-friendly accommodations |
| Further services for apartments | towels, shared washing machine, shared clothes dryer, "bread and milk" service |
| Internet | free Wi-Fi in room/apartment and common areas |
| Cuisine | afternoon snack, early breakfast upon reservation, personalised lunch box upon reservation |
| Wellness | small wellness area, sauna |
| Children | family-friendly accommodation, playground |
| Pets | small pets allowed |
| Payment methods | Visa, MasterCard, Visa Electron, Maestro, PostePay, Satispay, ApplePay, GooglePay, SamsungPay |
| Excursions | SUMMER > guided excursions organised by external providers with booking at the facility: trekking, Nordic Walking, trekking bike, mountain bike, e-MTB | WINTER > guided excursions organised by external providers with booking at the facility: trekking, alpine skiing, snowshoes |
| Activities | organised upon request: horse riding, ski mountaineering excursions, horse-drawn carriage ride, horse-drawn sleigh ride, paragliding, hang-gliding, climbing tours, hiking on vie ferrate (iron paths), rafting, canyoning, sports fishing, cultural tourism (museums, historical centres...) |
| Bike | bike friendly: locked bicycle storage, workshop corner for small repairs, equipped area for bike wash, info, maps and charts for bike excursions |
| Motorbike | bikers welcome: motorcycle parking space in a garage, guarded and locked, toolbox at guests' disposal, equipped area for motorbike wash, info, maps and charts for motorbike excursions, drying room for motorcycle clothing |
| Ski | skiroom with ski boot heater, slopes are easily reachable on foot (900m), closest cross-country trails at 9km, public skibus |
Availability and approximate prices
Check availability and see prices
1 x Mühlegg (Room)

https://images.yesalps.com/hp/1069452/503500_camera-koasa.jpg

BB

{"S": 2, "M": 6, "B": 0, "N": true, "delimiter": " + "}

34 m2

[{"id": "SNG", "qta": 4}, {"id": "MTRS", "qta": 1}, {"id": "CLL", "qta": 1}]

[{"id": "camera", "letti": [{"id": "SNG", "qta": 4}, {"id": "MTRS", "qta": 1}, {"id": "CLL", "qta": 1}], "kitchenette": false}]

bathroom (with WC, shower, bidet)

No balcony, no problem. This room is a little mystery. On the one hand, you want to sit and observe everything that happens (or doesn't, when it comes to the quiet of the massive mountains) in front of this beautiful panoramic window. On the other hand, this room is just so special, that it's worth.

[0, 1, 2]

[{"id": 503500, "url": "https://images.yesalps.com/hp/1069452/503500_camera-koasa.jpg", "width": 600, "height": 400}, {"id": 503501, "url": "https://images.yesalps.com/hp/1069452/503501_camera-koasa.jpg", "width": 600, "height": 400}, {"id": 641886, "url": "https://images.yesalps.com/hp/1069452/641886_camera-koasa.jpg", "width": 600, "height": 400}, {"id": 503499, "url": "https://images.yesalps.com/hp/1069452/503499_bagno.jpg", "width": 600, "height": 400}, {"id": 503502, "url": "https://images.yesalps.com/hp/1069452/503502_bagno.jpg", "width": 600, "height": 400}]

false

1 x Klausberg (Room)

https://images.yesalps.com/hp/1069452/503504_camera-koasa.jpg

BB

{"S": 2, "M": 3, "B": 0, "N": true, "delimiter": " / "}

20 m2

[{"id": "MTR", "qta": 1}, {"id": "CLGG", "qta": 1}]

[{"id": "camera", "letti": [{"id": "MTR", "qta": 1}, {"id": "CLGG", "qta": 1}], "kitchenette": false}]

bathroom (with WC, shower, bidet)

This is the place where you take advantage of the rare evening sun. Lucky is the one who rent out this room. Enjoy a warm seat of your balcony while watching the kids on the boulder wall. Above, the pretty wooden cabin might be a sunny spot, too. Close to the hiking and skiing area Klausberg.

[0, 1, 2]

[{"id": 503504, "url": "https://images.yesalps.com/hp/1069452/503504_camera-koasa.jpg", "width": 600, "height": 400}, {"id": 503507, "url": "https://images.yesalps.com/hp/1069452/503507_camera-koasa.jpg", "width": 600, "height": 400}, {"id": 503508, "url": "https://images.yesalps.com/hp/1069452/503508_camera-koasa.jpg", "width": 600, "height": 400}, {"id": 503543, "url": "https://images.yesalps.com/hp/1069452/503543_camera-koasa.jpg", "width": 600, "height": 400}, {"id": 503506, "url": "https://images.yesalps.com/hp/1069452/503506_bagno.jpg", "width": 600, "height": 400}]

false

1 x Dreiherren (Room)

https://images.yesalps.com/hp/1069452/503572_zona-giorno.jpg

BB

{"S": 2, "M": 3, "B": 0, "N": true, "delimiter": " / "}

22 m2

[{"id": "MTR", "qta": 1}, {"id": "CLGG", "qta": 1}]

[{"id": "camera", "letti": [{"id": "MTR", "qta": 1}, {"id": "CLGG", "qta": 1}], "kitchenette": false}]

bathroom (with WC, shower, bidet)

This is where you might observe the magical glow of the mountains when the sun goes down. The peaks of a mountain called Dreiherrenspitz reflect the sun at dawn. Its name honors the three regions that come to a boarder here: Salisburg, Eastern Tyrol and South Tyrol.

[0, 1, 2]

[{"id": 503572, "url": "https://images.yesalps.com/hp/1069452/503572_zona-giorno.jpg", "width": 600, "height": 400}, {"id": 503529, "url": "https://images.yesalps.com/hp/1069452/503529_camera-koasa.jpg", "width": 600, "height": 400}, {"id": 503573, "url": "https://images.yesalps.com/hp/1069452/503573_camera-koasa.jpg", "width": 600, "height": 399}, {"id": 641885, "url": "https://images.yesalps.com/hp/1069452/641885_camera-koasa.jpg", "width": 600, "height": 400}, {"id": 503571, "url": "https://images.yesalps.com/hp/1069452/503571_bagno.jpg", "width": 600, "height": 400}]

false

1 x Ahrntal (Room)

https://images.yesalps.com/hp/1069452/503509_camera-koasa.jpg

BB

{"S": 2, "M": 4, "B": 0, "N": true, "delimiter": " + "}

28 m2

[{"id": "MTR", "qta": 1}, {"id": "CST", "qta": 1}, {"id": "CLL", "qta": 1}]

[{"id": "camera", "letti": [{"id": "MTR", "qta": 1}, {"id": "CST", "qta": 1}, {"id": "CLL", "qta": 1}], "kitchenette": false}]

bathroom (with WC, shower, bidet)

There is a little valley in between the two peaks which you will spot from your bedroom window. It is called Ahrntal, just like the main valley we live in. We consider hiking a few hours up, because you probably will be all alone in this epic and untouched region. Too lonely for you?

[0, 1, 2]

[{"id": 503509, "url": "https://images.yesalps.com/hp/1069452/503509_camera-koasa.jpg", "width": 600, "height": 400}, {"id": 503510, "url": "https://images.yesalps.com/hp/1069452/503510_camera-koasa.jpg", "width": 600, "height": 400}, {"id": 503511, "url": "https://images.yesalps.com/hp/1069452/503511_camera-koasa.jpg", "width": 600, "height": 400}, {"id": 503513, "url": "https://images.yesalps.com/hp/1069452/503513_bagno.jpg", "width": 600, "height": 400}, {"id": 503512, "url": "https://images.yesalps.com/hp/1069452/503512_balcone.jpg", "width": 600, "height": 400}]

false

1 x Speikboden (Room)

https://images.yesalps.com/hp/1069452/503514_camera-koasa.jpg

BB

{"S": 2, "M": 4, "B": 0, "N": true, "delimiter": " + "}

28 m2

[{"id": "MTR", "qta": 1}, {"id": "CST", "qta": 1}, {"id": "CLL", "qta": 1}]

[{"id": "camera", "letti": [{"id": "MTR", "qta": 1}, {"id": "CST", "qta": 1}, {"id": "CLL", "qta": 1}], "kitchenette": false}]

bathroom (with WC, shower, bidet)

In the mornings your first glance might wander South – this is where the hiking and skiing area Speikboden is located. Far on its mountain tops, the lifts reflect the sun, and you can launch your next mountain adventure in your head: a trip above 2.000 meters.

[0, 1, 2]

[{"id": 503514, "url": "https://images.yesalps.com/hp/1069452/503514_camera-koasa.jpg", "width": 600, "height": 400}, {"id": 503515, "url": "https://images.yesalps.com/hp/1069452/503515_camera-koasa.jpg", "width": 600, "height": 400}, {"id": 503517, "url": "https://images.yesalps.com/hp/1069452/503517_camera-koasa.jpg", "width": 600, "height": 400}, {"id": 503516, "url": "https://images.yesalps.com/hp/1069452/503516_bagno.jpg", "width": 600, "height": 400}, {"id": 503518, "url": "https://images.yesalps.com/hp/1069452/503518_balcone.jpg", "width": 600, "height": 399}]

false

1 x Apartment

https://images.yesalps.com/hp/1069452/504077_esterno-estate.jpg

SP

{"S": 18, "M": 20, "B": 0, "N": true, "delimiter": " + "}

240 m2

[{"id": "SNG", "qta": 4}, {"id": "MTR", "qta": 4}, {"id": "MTRS", "qta": 1}, {"id": "CST", "qta": 2}, {"id": "CLL", "qta": 3}, {"id": "CLGG", "qta": 2}]

[{"id": "camera", "index": 1, "letti": [{"id": "SNG", "qta": 4}, {"id": "MTRS", "qta": 1}, {"id": "CLL", "qta": 1}], "kitchenette": false}, {"id": "camera", "index": 2, "letti": [{"id": "MTR", "qta": 1}, {"id": "CST", "qta": 1}, {"id": "CLL", "qta": 1}], "kitchenette": false}, {"id": "camera", "index": 3, "letti": [{"id": "MTR", "qta": 1}, {"id": "CST", "qta": 1}, {"id": "CLL", "qta": 1}], "kitchenette": false}, {"id": "camera", "index": 4, "letti": [{"id": "MTR", "qta": 1}, {"id": "CLGG", "qta": 1}], "kitchenette": false}, {"id": "camera", "index": 5, "letti": [{"id": "MTR", "qta": 1}, {"id": "CLGG", "qta": 1}], "kitchenette": false}]

5 bathrooms (WC, shower, bidet - WC, shower, bidet - WC, shower, bidet - WC, shower, bidet - WC, shower, bidet)

Rent out the complete house – group travel. We have a couple of ideas why you should come to Valley Aurina together with your family and friends or maybe with your co-workers. It is because there's so much adventure out there. We hardly find the time to try it all. Let's try and give you an idea.

[0, 1, 2]

[{"id": 504077, "url": "https://images.yesalps.com/hp/1069452/504077_esterno-estate.jpg", "width": 600, "height": 400}, {"id": 503581, "url": "https://images.yesalps.com/hp/1069452/503581_parti-comuni.jpg", "width": 600, "height": 399}, {"id": 503574, "url": "https://images.yesalps.com/hp/1069452/503574_ristorante-koasa.jpg", "width": 600, "height": 399}, {"id": 503500, "url": "https://images.yesalps.com/hp/1069452/503500_camera-koasa.jpg", "width": 600, "height": 400}, {"id": 503504, "url": "https://images.yesalps.com/hp/1069452/503504_camera-koasa.jpg", "width": 600, "height": 400}, {"id": 503511, "url": "https://images.yesalps.com/hp/1069452/503511_camera-koasa.jpg", "width": 600, "height": 400}, {"id": 503515, "url": "https://images.yesalps.com/hp/1069452/503515_camera-koasa.jpg", "width": 600, "height": 400}, {"id": 503565, "url": "https://images.yesalps.com/hp/1069452/503565_camera-koasa.jpg", "width": 600, "height": 400}, {"id": 503578, "url": "https://images.yesalps.com/hp/1069452/503578_bagno.jpg", "width": 600, "height": 400}, {"id": 503582, "url": "https://images.yesalps.com/hp/1069452/503582_sauna-valle-aurina.jpg", "width": 600, "height": 400}]

false
Availability and approximate prices
The availability and the prices are entered and updated by the accommodation they refer to. As these data are subject to continuous changes, the definitive availability and price must be agreed directly with each accommodation. The minimum and maximum prices can take into consideration only the most common services and conditions of the accommodation; in case of different solutions the prices may differ from the specified range. The indicated prices may not take into consideration several factors, therefore the final price and the details must be agreed directly with each lodging facility. The indicated prices may not include possible costs for final cleaning service or tourist taxes.
Other rooms

:

Available treatments

:

Description

:
Reviews
recommended by 2 guests
Lisa K.
59 years old, United States of America
With partner
vacation period: August 2022
Charming maso in Valle Aurina


We had a lovely one-week stay at this charming maso. It is conveniently located, close to the main road, yet quiet and peaceful. The room was exceptionally clean and well-furnished, with plenty of storage space. We woke up each morning after a comfortable sleep to a view of the valley and the sound of chickens. Breakfast was plentiful and delicious, with beautiful flowers from the garden on each table. One afternoon, we were treated to a tasting of local cheese, potatoes from the garden, and homemade butter. Our hosts were friendly and helpful, with good suggestions of activities and restaurants. We look forward to returning next year!
Favourite features: Ambience - Information received during the stay - Breakfast - Position - Room comfort - Room service - Courtesy and professionalism of the staff - Facilities for the pets of the guests - Furnishing

id: 2129
Map
KOASA-HOF Superior Chalet / Gäste-Hof / Maso-Vacanze
Mühlegg 133
San Giovanni / St. Johann (Valle Aurina / Ahrntal)
GPS coordinates
lat: 46.9912° N lon: 11.9606° E
lat: 46° 59' 28.4'' N lon: 11° 57' 38.2'' E
Information about the location: at 1050m a.s.l., 250m from the bus stop, slopes are easily reachable on foot (900m), closest cross-country trails at 9km.